SOCIAL RESPONSIBILITY

By giving of her time talent and resources through philanthropic and charitable efforts, Ms. Lightfoot is dedicated to supporting international, national and local organizations that promote academic and arts education, live donor kidney transplants, and to build higher self esteem and leadership characteristics in youth and young adults, affording them opportunities to receive college scholarship awards for continuing education.    
 
INTERNATIONAL SERVICE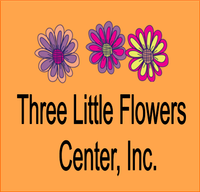 THREE LITTLE FLOWERS
Sant Twa Ti Flè (Haiti) Dr. Yves Dejean, Executive Director & Founder in 1987 - School Site: Fort-Royal, Petit-Goave  ant Twa Ti Flè (Haiti) Dr. Yves Dejean, Executive Director & Founder in 1987 - School Site: Fort-Royal, Petit-Goave .  At Sant Twa Ti Flè, their  program operating site in Fort-Royal, Petit-Goave, the children learn to read and write in their home language. They learn to form and manipulate ideas and to perform basic operations.
 
The mission of The Three Little Flowers Center, Inc. is to provide financial, educational and professional support to Sant Twa Ti Fle in its efforts to nurture the students' intellectual, social and physical capabilities in order for them to become productive citizens of Haiti and the world.  Three Little Flowers Center, Inc. raises funds to meet the financial needs of the school. We provide technical assistance to the school staff in order to  improve their skills and the services they deliver to the children. One of the essential goals for the 2016-2018 school year is to obtain adequate cash flow and financial stability to support the daily operation of sant twa ti flè. - http://www.3littleflowerscenter.org
NATIONAL SERVICE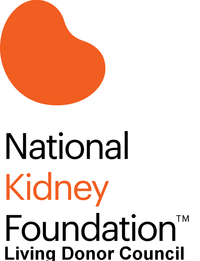 THE NATIONAL KIDNEY FOUNDATION
 founded in 1950 is a major voluntary nonprofit health organization, is dedicated to preventing kidney and urinary tract diseases, improving the health and well-being of individuals and families affected by kidney disease and increasing the availability of all organs for transplantation. The National Kidney Foundation (NKF), leader, in patient education and support, is developing new ways to support living organ donors, potential donors, healthcare professionals, family, and friends. Through educational and supportive resources, consensus conferences with medical professionals and legislative initiatives, the NKF works to represent living donor views on: 
Education and information needs for families and professionals, Public policy issues to improve the care provided to donors, Medical concerns before, during and after donation, Financial, employment and insurance issues before, during and after donation, Emotional issues surrounding living donation, Relationships with recipients and family members, The live donor experience, The NKF also serves as a communication link among living donors and between donors and the transplant community. 
The mission of the Living Donor Council is: To enhance all aspects of the living donation process, including but not limited to, the decision whether or not to donate, the procedure and post-donation care, To provide educational and support resources at all phases of living donation, To advocate on behalf of living donors and potential donors, To utilize the experiences of living donors in order to educate prospective donors, increase awareness of the needs of living donors and those considering donation, and enhance the living donation process.  http://www.kidney.org.

LOCAL SERVICE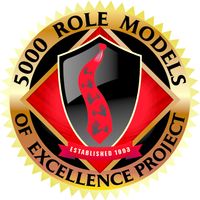 5000 ROLE MODELS OF EXCELLENCE PROJECT Miami-Dade County, Florida was Founded in 1993, by Congresswoman Frederica S. Wilson
A successful dropout prevention intervention program for minority young boys "at-risk" of dropping out of school and/or choosing a life of crime. The program serves 6,792 students in 89 schools, which includes approximately 23 elementary, 33 middle and 33 senior high schools in Miami-Dade County. The expansion program in Pinellas County serves 450 students in 20 middle and senior high schools. The majority of students enter the program in middle school and continue activities throughout their high school and post-secondary education years. Primarily, the program serves children who are being reared without the benefit of a father or a positive male role model. The waiting list of applicants is staggering. Children who are ages 9-19-year-olds are referred by school principals, counselors, teachers and/or parents. Over 95 percent of the students who begin the program and graduate have no further negative contact with violations of student conduct codes or the law.  When students enter the program, they are guaranteed a chance to attend college or advance through a potpourri of post-secondary opportunities geared toward the next level of education. Eligible students are employed in the private sector throughout high school. Mentors from the program assist students in this process. Funds for scholarships are raised annually at the 5000 Role Models of Excellence Project Dr. Martin Luther King, Jr. Unity Scholarship Breakfast. Thousands of young men have been recipients of this award since its inception in 1993. To date, over $5 million in scholarships have been awarded to students successfully completing the program. http://www.5000rolemodels.com.  The program is also celebrated by 44th President Barack Obama who has insured the program will continue to be a primary legacy iniative of his "My Brothers Keepers Program" nationwide.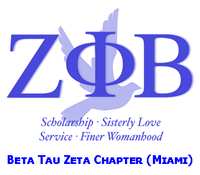 BETA TAU ZETA CHAPTER  (SCHOLARSHIP FUND)
BETA TAU ZETA CHAPTER OF ZETA PHI BETA SORORITY INC.
The members of Beta Tau Zeta Chapter are committed to exemplifying our sorority ideals: Scholarship, Service, Sisterly Love, Finer Womanhood.  http://www.betatauzeta.org/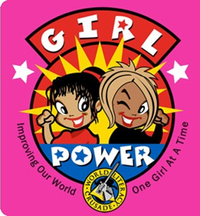 GIRL POWER WORLD LITERACY CRUSADE OF FLORIDA, INC.
is a 501©3 non-profit founded in 1997 as a result of the growing rate of crime, poverty illiteracy, and 
hopelessness that is prevalent in inner-city and under-served communities. World Literacy Crusade launched Girl Power Programs (GP) in January 2000 as an organization of positive social change just for girls ages 11 – 17.  Girl Power offers several empowerment programs to young girls and their families throughout Miami-Dade County including Girls Rock After-School; Summer Camp; Sister Circle Mentoring; Girls' Choir of Miami and Post-Arrest Diversion programs. Our goal is to promote positive behavior, enhance social skills and improve academic performance in adolescent girls.  Program activities include life skills, tutoring, journal writing, art, yoga, dance, service learning projects, educational field trips, development workshops, college & heritage tours, individual therapy, group therapy and parent support groups. 
Since its inception, Girl Power has served well over a thousand Miami-Dade County public school students to: Prevent/reduce indoor/outdoor suspension, and truancy among at-risk school girls and Prevent/reduce the number of young girls entering into the juvenile justice system Improve overall academic performance among program participants. http://www.girlpowerrocks.org 
UTD TEACHING EXCELLENCE FOUNDATION

The United Teachers of Dade," Teaching Excellence Foundation," is organized exclusively for charitable and educational purposes. It provides support and opportunities for teachers, education professionals, and education support staff, to deepen their understanding of teaching and learning while enhancing their abilities as leaders in the field of education.  United Teachers of Dade is a union of professionals who work to advance the cause of public education.  They educate students, empower their members, and work with parents and the community to build a stronger Miami.   www.utd.org.