About Rochelle
Rochelle Marie Lightfoot "The Sweetheart of Song"™ is an award-winning American singer-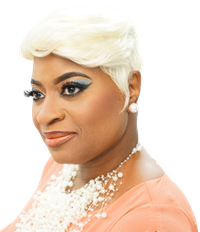 songwriter, recording artist, actress, spokesperson and philanthropist. She is sought after for her velvety "big voice", and spirited performances. Renowned for her powerful rendition of the "The Star-Spangled Banner", she has performed the National Anthem on grand stages for President Clinton, during President Obama's Administration for The U.S. Congress, at Miami Dolphins NFL Games and for U.S. Soccer Women's National Team for the SheBelieve's World Cup on ESPN, before an international audience of more than six million. Ms. Lightfoot was born in Miami, Florida, raised in Dallas, Texas, and is the second of four siblings. Rochelle is considered a naturally gifted vocal phenomenon or prodigy.  As her mother Anna tells the story "she started singing when she was just 9 months old. "I was shocked hearing Rochelle mimicking the radio which was playing Aretha Franklin's song "RESPECT". She sang it in "perfect pitch" and has been singing ever since".  A few years later, she began sharing her vocal gift at churches, various community events and state pageantry competitions, often placing first in the talent category.  During middle and high school, she also learned to play the viola, flute, and percussion instruments. After graduating high school, she obtained management degrees from Miami Dade College and Florida International University. As a mezzo-soprano, Rochelle exudes a colorful range of velvety vocals, with a classic style influenced by treasured musical legends such as; Mahalia Jackson, Ella Fitzgerald, Judy Garland, Bessie Smith, Lena Horne, Nat King Cole, Barbra Streisand, Stevie Wonder, Nancy Wilson, Phyllis Hyman, Aretha Franklin, Pattie Labelle, Duke Ellington, Rachelle Farrell, Anita Baker and Whitney Houston. In 2011, Rochelle released her Christmas Album entitled "The Gift", followed by "Jazzy Classics", a "Big Band Jazz" album in 2014.  Currently, she is producing a docu-series entitled: Soul Moments: "Touching The World Through Song", giving her audience an intimate glimpse into her musical journey.  Her highly anticipated third Studio album, "Rochelle Lightfoot - The Tender Part of Me", was inspired by her real-life experiences and is slated to be released during 2024.  Her new music is a blend of Rhythm & Soul with lovely Smooth Jazz undertones, in which she has written and co-produced.

Her multi-genre style also flows throughout her other disciplines as an actress, motivational speaker, praise and worship minister and as a spokeswoman for select philanthropic initiatives throughout South Florida.  Rochelle has opened for numerous legendary musical artists, celebrities, political dignitaries and has an esteemed fan base throughout the United States and internationally.
Her debut professional performance was for Dr. Maya Angelou in 1993, when she was given a mandate to keep singing no matter what, and for over 30 years, Ms. Lightfoot continues to be celebrated by all who experience her "Live In Concert", amazing them with her unique soulful sound and sophisticated style.
"Touching The World Through Song" --R. Lightfoot